NEW WATCH: The Queen's Gambit  
December 17, 2019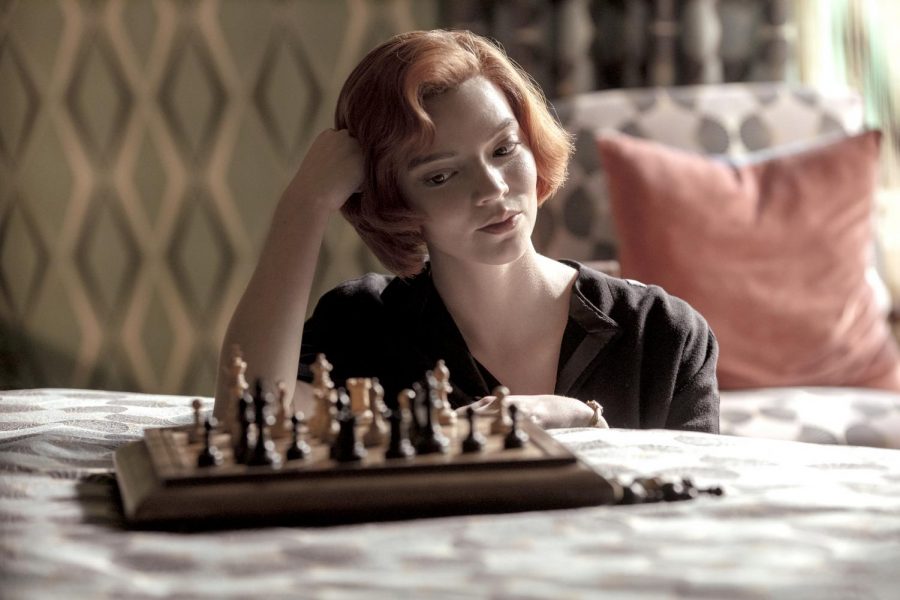 The Queen's Gambit, a new Netflix original show is here, and in seven episodes will have you completely hooked. 
Even with a global pandemic, a historic election, and a snowy Halloween under your belt, something is missing. Life has left a pawn-sized hole in your life, and you've been aching to fill it. Months of surfing through pointless shows have provided no consolation. Netflix offers you the solution, in a seven-episode show that will leave you with chills. The Queen's Gambit, a Netflix original follows Beth Harmon, a petite woman with an intense glare and a shocking tale, as she conquers the world of competitive chess. Viewers are captivated by the invigorating visuals, tragic backstory, and the triumph of the human spirit that a mere seven episodes carry. And don't just take it from us- the show has been at number one in Netflix's USA top ten for the past two weeks, as well as ranking first in 12 other countries. Even without any knowledge of chess, the show can be just as captivating. It tackles substance abuse, feminism, relationships, empowerment, trauma, and is sprinkled with humor, beauty, sadness, and the full range of human experience. In only a few episodes, viewers can escape into the world of Cold-War era chess madness, and feel their troubles melt away. Take some time out of your weekend to check out The Queen's Gambit!
---
Stapczynski, Colin. "The Queen's Gambit On Netflix – All The Info."
Chess.com
, Chess.com, 16 Nov. 2020,
www.chess.com/article/view/queens-gambit-netflix
.