Meet the Players: Girls Varsity Cross Country Team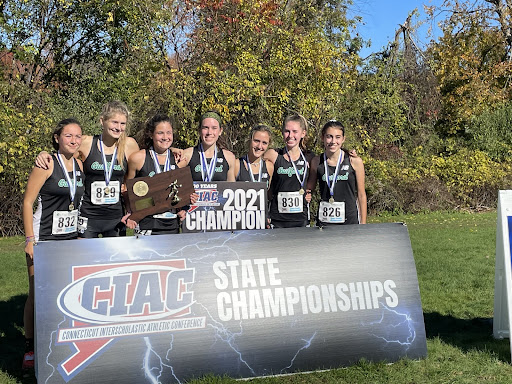 Meet the Players: Girls Varsity Cross Country Team
By Sara Iglesias
This season has been one like never before for the GHS Girls Cross Country team. Not only has it been incredibly successful, but they did it all without a track to practice on and multiple injuries within the team. Despite these challenges, the team won their 5th consecutive SCC championship title on October 20th, and continued on to win States for the first time in 10 years on November 1st. Following this huge win, the team then came in 6th place at the State Opens Meet, meaning they were the 6th best team in CT and guaranteeing them a spot at New Englands the very next week. To conclude their season, the team made their way to Vermont on November 14th, where this regional competition was held, and managed to place 10th overall, making their new ranking 3rd in CT. In recognition of one of the most successful teams in recent GHS history, it only makes sense to learn a bit more about each of the runners and what makes them work so well, not just as individuals, but as a team. 
Michaela Hogan, Sophomore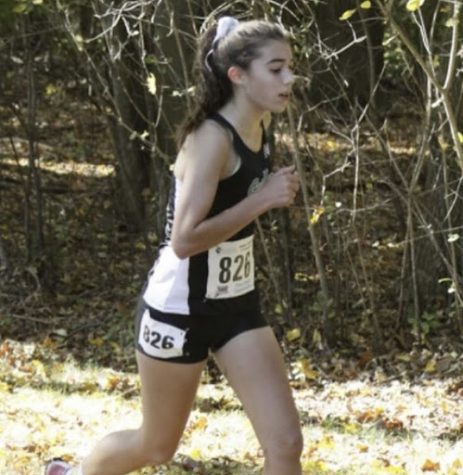 Michaela has been running for about 2 or 3 years. During the winter and spring seasons, she participates in both indoor and outdoor track, making her a year-round runner. One of her goals for future years is to improve as both a competitor and a teammate and strengthen her skills all around. As the youngest runner on the varsity team, Michaela noted that sometimes being in her position is difficult, especially because she still has to alternate between JV and Varsity. But overall, Michaela has enjoyed meeting new people and says that she's had fun being on the team this season. 
Ursula Adams, Junior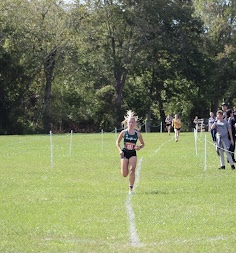 Ursula's been running for her entire life. In 8th grade, she made the decision to run competitively for the middle school team, and she's been running for her school ever since. One of Ursula's goals for this season was to put in her best effort for herself and the team. When asked why she's proud of her team, Ursula recounted the challenges that they all faced this season and how much the girls on the team have helped and supported one another through tough times, and still managed to succeed. In Ursula's mind, the key to the team's success is the fact that none of the runners ever let themselves get overly confident, no matter how much they win throughout the season. No matter what, Ursula and her teammates make every minute of hard work count toward their win. 
Olivia Kaisin, Junior Captain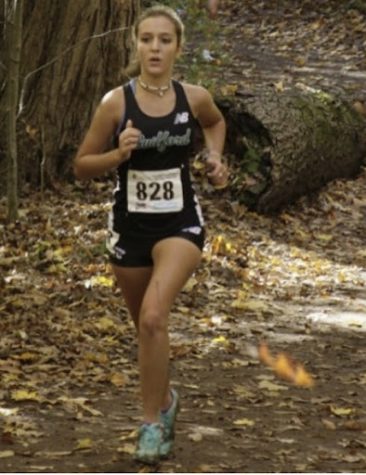 Olivia has considered herself a runner since she was little, but she really started to take it seriously during her freshman year of high school. While she's tried to participate in some school-run clubs in the past, Olivia has dedicated most of her time to running and continues to run year-round in her off-seasons from cross country. Earlier this season, Olivia noted that she was really excited about the possibility of getting to New Englands with her team, and soon after, the whole team saw this dream come true! One of Olivia's personal goals for this season was to overcome the setbacks that came after she had mono during the middle of the season and had to sit out for two weeks. As of November 2nd, Olivia said that, while she didn't feel like she was quite back to her old self, every single race got better. Olivia is so proud of her team for continuing to work hard through this entire season, even with all the ups and downs.
Clara Laughlin, Junior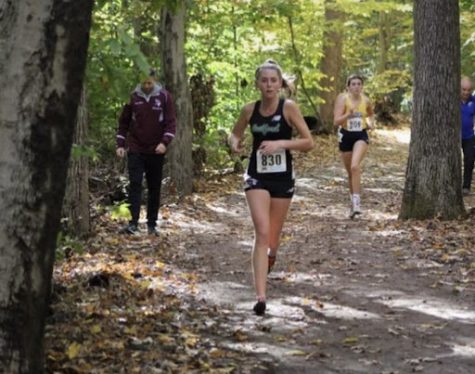 Clara started running in 5th grade and has never stopped since! Outside of running, Clara is active in quite a few school clubs, such as the Guilford Youth Feminist Alliance and the Newspaper Club. She also takes pride in the work she's done with Students Demand Action to help end gun violence in the United States. Clara speaks fondly of her performance this season, stating that she truly believes she pushed herself the hardest she could have in every race. After New Englands, Clara was overjoyed with her team's performance, and she even recalls that the time she spent in Vermont with her team exceeded her expectations. Clara is looking forward to what the future holds for her senior season, but in the meantime, she'll continue to run for the rest of the school year as she participates in indoor and outdoor track. 
Alexa Suchy, Junior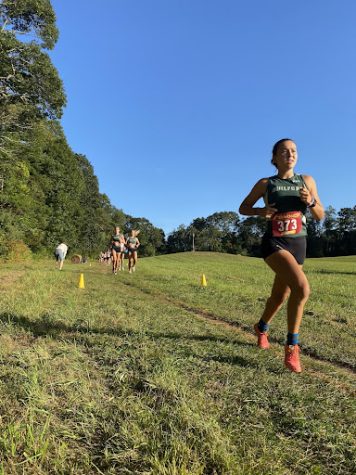 Alexa has only been running since this past spring, but she's already excelling at the Varsity level, coming in 8th place at SCC's and 9th place at States! This is her first year doing so, but Alexa plans to run year-round for this school year. For her other extracurriculars, Alexa is in the Guilford Youth Feminist Alliance, and she also plays for the South Central Premiere soccer team. Alexa was stoked when her team made it to New England's, a goal that the entire team shared for quite some time. In the near future, Alexa is looking forward to running track; if you think she's good with long-distance, you should see her sprint!  
Julia Antony, Senior Captain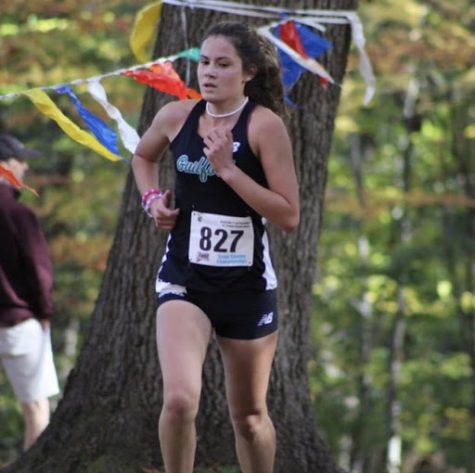 Julia has been running since 7th grade, but she didn't start running really competitively until her freshman year. She continues her training during the winter and spring seasons, at which times she runs indoor and outdoor track respectively. Julia has proved to be a very talented and hardworking runner. Not only did she come in 25th place at New Englands this season, she recently verbally committed to running cross country at Brown University for her upcoming college years. Julia is extremely proud of her team for all their accomplishments this season. She believes that the work they all put in over the summer was what really set them apart from other runners. Julia notes how difficult it's been to practice without a track this year, but she also knows that everyone has put in a ton of work, which is ultimately what made them so successful. 
Lorelei King, Senior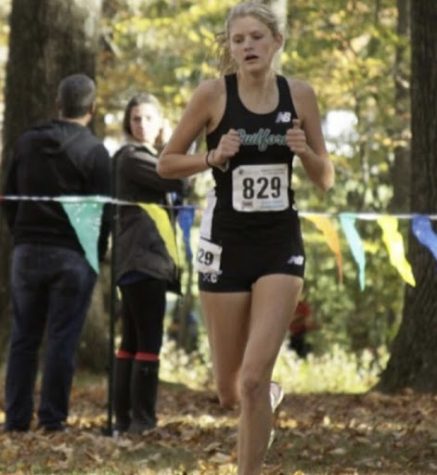 Lorelei has been running cross country for two years. In the winter, she participates in indoor track, but she switches up things in the spring to play lacrosse. She's also part of the Guilford Youth Feminist Alliance and Students Demand Action. Although she's enjoyed her time on the team, Lorelei doesn't think running is in her long-term future; she hopes to go to school for biology and eventually have a career in clinical medicine. Lorelei believes that a big reason for the cross country team's accomplishments is their coach's dedication to their training. Coach Ford has plans for every week, within which he strategically places their workouts and instructs the team to run on hills. He's even had the team travel to unfamiliar trails where they're scheduled to have future meets so his team knows what to expect. Without a coach that is as devoted as Coach Ford, Lorelei isn't sure if the team would have achieved all that they were able to this season.
Olivia Skapczynski, Senior Captain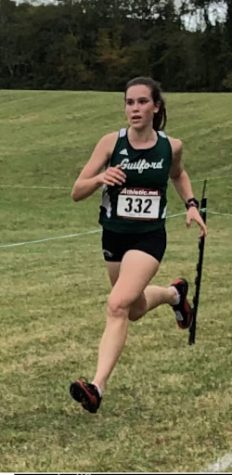 Much of Olivia's excitement about running seems to lie in the future. During the springtime of her junior year, Olivia switched from playing lacrosse to running track so she could start running full time. Unfortunately, right as she was making this switch, Olivia got an Achilles tendonitis injury that prevented her from running for the entire track season. Because of that injury, Olivia has never had the opportunity to run outdoor track for her entire high school career, so she's excited to see what she can do this spring when the time comes! Although nothing is set in stone, Olivia mentioned that she's applied to quite a few colleges in the Boston area, is currently talking to the running coach at Tufts University, and is looking at and talking to a couple of colleges that would grant her the opportunity to run D3. One of Olivia's proudest moments from this season was the team's win at States, at which the entire team wasn't sure about whether they won and was overjoyed when they heard the results.