Bullet Train Film Review
February 9, 2023
Bullet Train is an action comedy film directed by David Leitch, who also directed Deadpool 2 and Atomic Blonde. He also Co-directed two John Wick films. The story is based on a book called Maria Beetle by Kotaro Isaka.
Bullet Train is about an assassin named Ladybug (played by Brad Pitt) who wants to peacefully do his job. On his next mission, he is on the world's fastest train going from Tokyo to Kyoto with other assassins from all over the world who have similar missions. Ladybug is filling in for another assassin, Carver (played by Ryan Reynolds), who was not able to do the mission because he was having "stomach problems." 
The mission was supposed to be simple. Ladybug just had to grab a briefcase and get off at his stop.  However, Ladybug thought he was unlucky because every job he did, somebody died… even when he wasn't trying to kill anyone. Maria (played by Sandra Bullock) is Ladybug's handler and she talks to him mostly on the phone throughout the movie. 
Almost every character in this movie had their own backstories, including a water bottle. Lemon(played by Brian Tyree Henry) and Tangerine(played by Aaron Taylor Johnson) are partners and they work together when completing missions.
The chemistry between Lemon and Tangerine was great. 


Lemon is completely obsessed with Thomas The Tank Engine. He says that he learned how to read people from watching Thomas The Tank Engine. He even has a sticker book from that show, which he brings onto the train with him.
Another character, Prince (played by Joey King) acts like an innocent little girl, although she really isn't. She is a manipulative assassin who just happens to be the daughter of The White Death, who is also one of the main antagonists of the movie. 
Lemon suspected that she was a "diesel" or a villain, and he was right about that.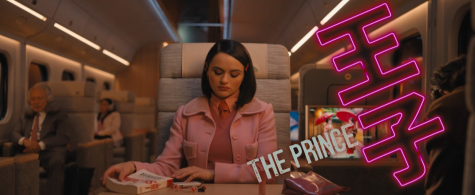 The Elder (played by Hiroyuki Sanada) has a strong performance as an older assassin looking for vengeance.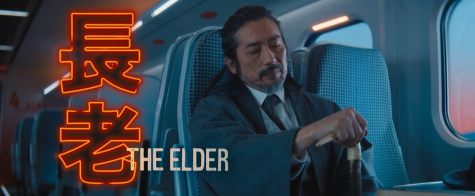 There are several great action sequences in this film, including a scene where Lemon and Ladybug were fighting in the quiet car on the train. 
Another great aspect of Bullet Train is it's soundtrack. There were some songs in Japanese and some songs in English, as well as a few songs in other languages. The Bullet Train score was composed by Dominic Lewis, who also composed the scores for Violent Night and Spirited.
All of the characters in Bullet Train had their own theme songs. Ladybug's theme song was "Staying Alive," Lemon and Tangerine's theme song was Engelbert Humperdinck's cover of "I'm Forever Blowing Bubbles" and Prince's theme song was "My Time To Shine" by UPSAHL. There are several different versions of I'm Forever Blowing Bubbles played throughout Bullet Train.
"Five Hundred Miles" by Songs For Memories plays in one scene as well.
I would give Bullet Train a 99%. The entire cast did a phenomenal job acting, especially Hiroyuki Sanada and Joey King. King did an amazing job playing a devious character like Prince. Sanada immersed himself into the portrayal of an elderly assassin. His performance as The Elder was phenomenal. Critics should expect to see him playing a character called Shimazu in John Wick Chapter 4, which is supposed to be released on March 24th, 2023. 
Bullet Train definitely did not deserve the 53% that critics gave it on Rotten Tomatoes. I'm guessing they were expecting more of a John Wick style action film. This may have been because of the way it was marketed in the trailers. Some people go into movie theaters and they end up leaving the theater disappointed because the movie wasn't what they were expecting it to be. Sometimes that could be a good thing that expectations for a movie are wrong and the movie is actually better than what they expected it to be. 
Bullet Train was more of a revenge story/murder mystery than an action movie, although it did have many awesome fight scenes, with some comedy in there as well. The comedy was hilarious in both Bullet Train and Violent Night. 
Bullet Train is available to watch on Netflix.
Keira Arbuckle