Tomorrow: A K-Drama Review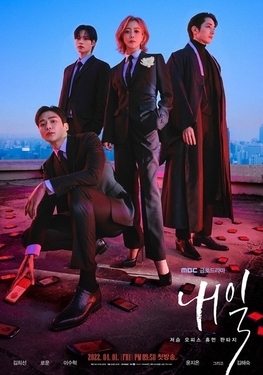 For the past year, I have watched over 100 Korean dramas. Historical, romance, action, you name it- I have probably watched at least one within any genre. The Korean entertainment industry has such a sturdy grasp on me that I can't seem to run away from. Recently, I watched a new k-drama that aired on Netflix called "Tomorrow." Based on the webtoon written by Ra Ma, Choi Jun-Woong is a bright, young guy constantly sitting through interviews for a full-time job- yet always gets denied. One day, he witnesses a man trying to take his own life and decides to save him, yet he, unfortunately, proceeds to fall into a coma. For the next six months, his life is put into the afterworld's hands. 
The afterworld, Jumadeung, organizes all of the events from the exact moment of their fated death up until their ultimate decision to work at Jumadeung, or be reincarnated back into the world. At Jumadeung, the Grim Reapers are organized into certain teams, just like any sort of office job, in order to carry out each individual's death; there's the escort team, registration team, spirit management team, video management team, sales team, and most notably the risk management team. With leader, Koo Ryeon, the risk management team was created in order to save citizens from committing suicide, and lead them into a better mental state. When Jun-Woong falls into his coma, he either has the choice to stay unconscious for three years, or work in the risk management team for 6 months, and wake up perfectly unscathed after… and with a guaranteed job. He picks the latter.
The main reason why I love this drama so much is because it deals with social issues that aren't highlighted as much within Korean entertainment. Each episode deals with a different taboo or issue within Korean society- especially as they are often overlooked or glorified. The risk management team empathizes with them, listens to them, and helps them. Importantly, the viewers get to see the experiences of each individual person, their thought process, their stories, and how they start to strive for improvement. One of my favorite episodes was when the risk management team went to save a veteran from the Korean war. As an American that has learned about the Korean war in school solely from a western perspective, I had never seen a narrative coming from the Korean perspective- not even often within the K-dramas I've watched previously. Jun-woong charmingly approaches the veteran, showing him the utmost respect and compassion even without knowing that he had served his country, which led to him sharing his story. We got to see his experience of having to leave his family to fight, as well as the pain he experienced outliving his friends and coming back to a community in ruins. All the staff of Jumadeung came together to pay their respects to him, making it such a heartfelt episode for the viewers, and one that really resonated with me as well.
In conclusion, as the series deals with triggering subjects, it is such a good, emotional show to indulge in. You get to empathize with the characters and the survivors, and gain plenty of new perspectives within the underrepresented communities and individuals within Korea.